Date and Time: 11:00 – 12:00am on Saturday, May 11
Session Type: Panel
Location: Room 1013, Earth Sciences Building
When you are new in your job, field, or company it can be hard to find the secrets in the depth of this "ocean." Like the ocean, it can look like a vast, blank expanse; but it is filled with a rich diversity of opportunities. Our panelists have all gotten their feet wet in unchartered waters completely unfamiliar to them. Learn how they found hidden opportunities and steered their boats to success.
Moderator: Anna Stukas
Speakers: Ann English, Simon Peacock, Sheri Plewes, Karimah Es Sabar, Cynthia Shippam-Brett
Ann English
As Chief Executive Officer and Registrar of the Association of Professional Engineers and Geoscientists of BC (APEGBC), Ann English is responsible for all aspects of the Association's operations and works closely with Council and staff to advance the Association through the implementation of a dynamic strategic plan that reflects the Association's vision and values. As the primary support to the President and Council, Ms. English enables the fulfillment of their governance functions.
Prior to joining APEGBC, Ms. English was Director of Interconnections with BC Hydro and has significant experience in the private industry, with nearly 20 years at Foster Wheeler, a large utility equipment, engineering and construction company.
Ms. English has an in-depth understanding of the regulatory environment as well as demonstrated leadership, business development, and project management experience. She is a graduate of the University of Manitoba with a degree in mechanical engineering and a graduate of the University of Toronto with a degree in physiology. Ms. English is also a registered Professional Engineer with APEGBC.
Apart from her professional pursuits, Ms. English has also been involved in her community serving as a member of various boards and councils.
Founded in 1920, APEGBC is the regulatory and licensing body for the professions of engineering and geoscience and is charged with protecting the public interest. With over 27,000 members, APEGBC is one of the largest professional associations in BC and maintains high academic, experience and professional practice standards.
Simon M. Peacock
Dr. Simon M. Peacock is Dean of the Faculty of Science and Professor of Earth, Ocean and Atmospheric Sciences at the University of British Columbia (2006 – present). As Dean, Dr. Peacock focuses on advancing the physical, life, and mathematical sciences, transforming undergraduate science education, enabling research opportunities, building interdisciplinary science education and research programs, and enhancing the diversity of science faculty. Prior to joining UBC, Dr. Peacock served as Divisional Dean of Natural Sciences and Mathematics (2004-2006), Interim Associate Dean (2003-2004), and Chair of the Department of Geological Sciences (1997-1998; 1999-2003) at Arizona State University. Dr. Peacock earned B.S. and M.S. degrees in Geology from the M.I.T. (1981) and a Ph.D. in Geology from the U.C.L.A. (1985). Dr. Peacock has taught courses that collectively span most of the earth sciences and include introductory, undergraduate, and advanced graduate courses. Dr. Peacock's research focuses on understanding the tectonic structure of subduction zones. He has published more than 50 articles in peer-reviewed journals including Science, Nature and the Journal of Geological Education.
Sheri Plewes
Sheri Plewes is a Professional Engineer and Vice-President, Infrastructure Delivery. Sheri has responsibility for the Port's major infrastructure projects, including the Container Capacity Improvement Program and Trade Areas development, and major contracts. Prior to joining Port Metro Vancouver, Sheri held the position as Senior Vice President for SNC-Lavalin's Transportation Division.
Prior to this, Sheri was a member of TransLink's executive team where she was Vice-President, Capital Management and Engineering, responsible for developing and implementing capital programs for the transportation authority and its subsidiary companies. Her responsibilities included facilities planning and construction, bridge construction and maintenance, regional road construction and maintenance, rail infrastructure planning and construction and emergency planning.
During her 30-year career, Sheri has also held engineering and major project roles with the City of Vancouver and the Alberta Ministry of Transportation. Sheri holds a Bachelor of Science (Honours) in Civil Engineering from the University of Alberta.
Karimah Es Sabar
A highly-recognized Canadian life sciences leader, Karimah Es Sabar brings 30 years of dynamic global business experience to her role as President and CEO of The Centre for Drug Research and Development (CDRD) headquartered in Vancouver, British Columbia, Canada. She previously held the position of Senior Vice-President, Business and Strategic Affairs at CDRD, responsible for ensuring the organization's long-term sustainability, while leading its business functions and successfully building the many national and international alliances and strategic partnerships which are now contributing significantly to advancing the goals of CDRD.Prior to joining CDRD, Ms. Es Sabar took on the role of leading BC Biotech in 2005, re-engineering and rebranding the organization to LifeSciences BC. As President, she led the organization to its greatest levels of success as a strong business development organization for the life science industry and the scientific research community. Ms. Es Sabar has also held senior management positions with international multinational companies, most notably as Director International Division, and later Director Marketing and Business Development at Connaught Laboratories Limited [Sanofi Pasteur] based in Toronto. Ms. Es Sabar also served as Vice President and Chief Operating Officer for a Vancouver medical devices company, Medsurge Medical Inc., and was the founder and Managing Director of SAL Healthcare Limited, a leading healthcare organization in Kenya specializing in pharmaceutical marketing, distribution and healthcare consulting services. The company set new standards in the marketing and distribution of biopharmaceutical products in the region.
Ms. Es Sabar currently serves as Chair of the Board of Trustees of the Providence Healthcare Research Institute, and also sits on the Boards of a number of organizations including the Michael Smith Foundation for Health Research (MSFHR); the Prostate Centre Advisory Board, Vancouver General Hospital; the Prostate Centre's Translational Research Initiative for Accelerated Discovery and Development (PC-TRIADD); NRC – IRAP Advisory Board; and also Chairs MOSAIC, a multilingual non-profit organization dedicated to addressing issues that affect immigrants and refugees in the course of their settlement and integration into Canadian society. She has also lent her leadership expertise by participating in a number of advisory committees for organizations such as the Natural Sciences and Engineering Research Council of Canada (NSERC); MITACS; the British Columbia Institute of Technology / University of British Columbia Biotechnology Degree Program; The Indus Entrepreneurs (TIE); India Market Advisory Committee, and the British Columbia Asia-Pacific Trade Council. She is also a former board member of LifeSciences British Columbia, the Aga Khan National Economic Planning Board of Canada and Aga Khan National Health Boards in Canada and Kenya.
In 2007, Ms. Es Sabar received Canada's Gold Award for Business Excellence (CABE) while at Sanofi Pasteur, was the recipient of the YWCA Women of Distinction Award in 2010 for Industry, Science and Technology, was included amongst "The Vancouver Power 50" listing of the most influential people in BC by Vancouver Magazine, and in "BC's Top 100 Women of Influence" by the Vancouver Sun.
Ms. Es Sabar holds a BSc. Joint Honours degree in Biochemistry/Chemistry from the University of Salford, England, and a MSc. degree in Neurochemistry from the Institute of Psychiatry, University of London, England.
Anna Stukas
Anna Stukas is the Manager of Intellectual Property and Regulations at BIC Inc, part of the BIC Group. The BIC Group of companies comprise an international consumer products corporation committed to delivering simple, inventive, and reliable products for everyone everywhere. Her responsibilities at BIC include patent portfolio management, technology licensing, standards development and creation of international regulations for micro fuel cells for portable power applications. She has been instrumental in the creation of international regulations that now allow carriage of fuel cell powered portable devices onboard passenger aircraft, chairs multiple international industry committees, and has represented the fuel cell industry to the United Nations and the International Civil Aviation Organization. Previously, Anna worked with Angstrom Power Incorporated, a privately funded North Vancouver-based R&D start-up focused on developing micro fuel cells for portable power applications, and was a key member of the team that negotiated the successful acquisition of Angstrom by BIC Inc.
Anna's belief in the need for strong, positive role models to inspire women and girls to enter, and stay, in non-traditional fields lead her to join the Board of Directors of the Society for Canadian Women in Science and Technology (SCWIST) in 2009, to work with SCWIST in furthering its mission to promote, encourage and empower women and girls in science, engineering and technology. Anna is now the Past President of SCWIST and remains an active member of the Board.
Anna received her Bachelor's Degree in Mechanical Engineering (Co-op, with Distinction) from the University of Victoria. In her spare time, Anna volunteers as an assistant instructor at Vancouver West Aikikai teaching aikido, a Japanese martial art; coaches girls field hockey; and, spends as much time as possible racing sailboats on the waters of English Bay.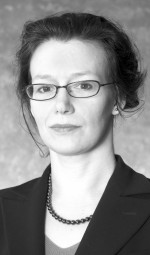 Cynthia Shippam-Brett
Cynthia Shippam, PhD is the in-house Patent Agent with SWITCH Materials, a spinoff company from 4D Labs at SFU. Before joining SWITCH, Cynthia spent several years with UBC's University-Industry Liaison Office and was a Patent Agent with a national law firm. Her experience in management, strategy and licensing of intellectual property, as well as drafting, filing and prosecution of patent applications in Canada, the U.S., and around the world provides her with a unique perspective of the intersection of law, business and science. To expand on this skill set, she is presently working toward her MBA. She is a member of the 'Bank of Speakers' for the Canadian intellectual property Office educational programs, and presents regularly to Executive and academic audiences.